Lets be honest about this, landlords are the enemy. You need to protect yourself from the ones that will take your money and give you a bad time. Fortunately there are rules and regulations out there which will protect you.
You biggest expenditure whilst you are a student is your rent, unless of course you plan on some very heavy drinking, which is not going to get you a first and will only get you in to debt.
Know your rights and make sure you are organised. Not having to worry about being evicted or losing your deposit means you can party with a lot less worry. If you do get into a sticky situation go and get help. Your accommodation officer is not just there to look pretty, they exist to help you so don't be afraid to take advantage of that help.
Most of it comes down to common sense, you may think that adding wheels to the house sofa and riding it down the steepest hill in town is the fun thing to do but you will have to pay for that sofa ride in the end.
Now that we've got that sorted you can get back to doing all the more important things on that list of yours or, and you shouldn't be ashamed of this, sleeping more than that guy in the purple jumper from The Wiggles.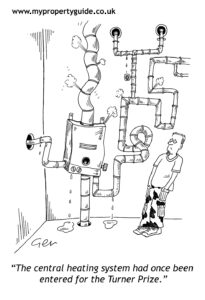 10 Things That Every Student Ought To Know Before Renting
Landlords have a legal obligation to provide their tenants with a copy of the Gas Safety certificate before they move into a property.

Landlords now also have a legal obligation to protect their tenants' deposits under the terms of the Tenancy Deposit Scheme. They must inform their tenants of the scheme that they are using within 14 days of accepting a deposit or face a fine.

If a Landlord changes their mind before the Tenancy Agreement is signed all they are obliged to do is return the holding deposit to the tenant (even if it is the day that the tenancy is due to commence). Tenants should get the Tenancy Agreement signed by The Landlord as soon as the terms are agreed.

Tenants will be in a much stronger position to argue against spurious claims on their deposit if there is an inventory in place. If a Landlord does not provide an inventory the tenant should think about producing their own. This may just be a set of digital photographs that are sent by recorded delivery to the Landlord, or their agent, on the first day of the Tenency.

The rent per sharer tends to fall as the number of people sharing increases, up to a maximum of 4. Most student houses capable of sleeping 5 or more people are classed as Houses in Multiple Occupation and become more expensive for the Landlord to run.

If a property is rented on a shared basis then only one TV Licence will be required. If sharers have individual tenancy agreements a licence will be required for each person that has a TV in their room.

Full time students are exempt from paying council tax but part time students aren't. Full time students should avoid sharing with part time students in case the household decides that it is unfair for the part-time student to pay the entire Council Tax bill on their own.

If you are going through a letting agent they will charge a referencing fee of between £20 and £100 per person. Tenants should try to negotiate this fee down as the cost to the agent of a basic reference is about £20 per person. An agent won't want to lose out on the higher fee from the Landlord for the sake of a few extra pounds from the tenant. Agents are not allowed to charge for showing you properties.

Most Tenancy Agreements run for 12 months. Students renting in non-student areas may be able to get a break clause inserted in to the agreement. This allows the tenant to give notice and leave at any time during the second half of the agreement.

Burglars tend to target student areas as they are aware that security may be lax and electrical goods plenty. Students should ask their Landlord to fit key operating locks on the windows and 5 lever deadlocks on the external doors. Before taking a property it is advisable to go back in the evening to get a feel for how safe the area is.
Bonus tip
The amount of time that student sharers spend arguing is inversely proportional to the time they spent choosing who to share with in the first place.