Rented residential property is covered by several regulations the most important of which are detailed below.
The Gas Safety (Installation and Use) Regulations 1998
Only a competent and suitably qualified engineer who is CORGI (Council for Registered Gas Installers) registered is permitted to carry out work on gas appliances. The regulations also stipulate that all gas appliances and flues in rented accommodation must be checked for safety within 12 months of being installed and thereafter at least every twelve months by a competent engineer (i.e. CORGI registered gas installer). This will include items such as the gas central heating boiler, the gas cooker or any gas fires.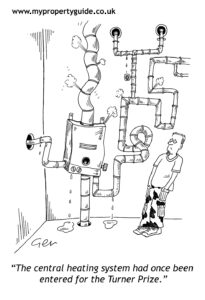 The safety check record is written in triplicate and your Landlord or Letting Agent has a legal obligation to provide you with the tenant's copy before you take occupation of the property. If you are an existing tenant you should be given a copy of the new record within 28 days of the annual check.
The Furniture and Furnishings (Fire) (Safety) Regulations 1988 (as amended)
The aim of these regulations is to improve safety by requiring all furniture and furnishings in rented properties to meet the "match test" or "cigarette test".
These days new furniture is marked with a display label (a triangle with a smoking cigarette) to show that it complies with this regulation. There should also be a permanent and non-detachable label stating compliance. Bed bases and mattresses are not required to bear a permanent label but compliance will be indicated if the item has a label stating that it meets BS7177.
The regulations apply to all upholstery and upholstered furniture and loose fittings, permanent or loose covers including: beds, mattresses, pillows, armchairs and scatter cushions. You Landlord should replace non-conforming items. Carpets and curtains are excluded from the regulations.
The Electrical Equipment (Safety) Regulations 1994
The regulations state that all electrical equipment supplied should be safe. However there is little detail in the act as to what the definition of "safe" is.
A resposnsible Landlord should check all appliances between tenancies for obvious signs that they are unsafe such as frayed wiring or badly fitted plugs. If you spot any defects of this nature you should report them to your Landlord or Letting Agents immediately.
Where the safe use of the equipment relies upon the user being aware of any particular characteristic you should be provided with the information, normally in the form of an instruction book.
In April 2006 the government introduced the mandatory licensing of houses in multiple occupation. As far as mandatory licensing of rented properties is concerned a house in multiple occupation is defined as a property which spans over three or more floors and is shared by five or more people made up of 2 or more families. A family can be a single person.
The poor standard of some student accommodation was one of the issues that encouraged the government to introduce mandatory licensing. Before a property can be granted a licence it has to meet minimum standards in terms of the number of bathrooms, toilets, washbasins, showers, cooking and laundry facilities. The Landlord will also have to show the Local Authority that they are a fit and competent person to manage the property.
As well as the mandatory Licensing scheme Local Authorities have the right to impose additional licensing and impose their own standards.
If you live in a shared house in multiple occupation (Category B) and think that it does not meet the minimum standards you should speak to your local authority. If there is a problem they will take it up with the landlord. They will not tell your landlord who made the complaint.