Halls of residence
House share
Room in a private house
Private flat
Private sector halls of residence
Parent purchasers
Halls of Residence
These are buildings owned by the university for the purpose of housing students. 'Halls' are in scarce supply and are therefore generally only available to first year students. Living in halls give students time to settle into their new environment and make friends before moving into privately rented accommodation in their second year.
As long as you are prepared to abide by the rules, halls of residence are an excellent option for first year students. They provide good value accommodation and are generally located on campus or within easy reach of the university. Other benefits include having your linen washed once a week and the bathrooms cleaned regularly – a veritable home from home. Students will be asked to sign a Residence Agreement lasting approximately 40 weeks.
House/ Flat Share
This is the most common type of private rented accommodation for students and the main focus of this guide. Finding good quality accommodation to share is no easy task and as you will see as you read through this guide there are many hurdles to cross along the way.
Room in a Private House
It's no longer just eccentric old ladies that take in lodgers; the "Rent a Room" scheme has made it a tax efficient way for all sorts of homeowners struggling with a mortgage to bring in some extra cash.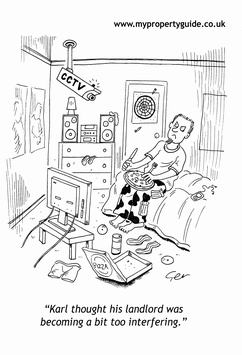 This may not be the type of accommodation that you had in mind when you imagined your wild student days ahead but if you have left it late it may be preferable to some of the more squalid shared houses. At least with this type of accommodation you are generally guaranteed a well maintained property at a reasonable rent and no additional bills.
Landlords that reside at the property have greater freedom to bring your tenancy to an end because it is acknowledged that, should the relationship between the landlord and tenant break down, the landlord is more vulnerable in his or her own home.
If you go for this type of a let make sure that you have exclusive use of at least one room and that your Landlord cannot enter it without giving you notice. This should ensure that you have a tenancy rather than a license giving you more rights.
Rights governing students that rent a room in someone's home
Private Flat
Having spent several months living with housemates that would make Kim and Aggie raise the white flag you may begin to dream of your own place. The trouble is that it's expensive and therefore out of reach for most students. Faced with a probable 100% increase in your accommodation costs it's easier to see the positives in sharing a house; the camaraderie, the solidarity, the thrill of never knowing if your food is still in the fridge!
Private sector Halls of Residence
These are a fairly recent addition to the choices available to students. Developers were quick to see a way of cashing in on the rising number of students requiring inner city accommodation. These properties tend to be designed around the principles of a shared house with four or five single rooms grouped around a Novo Cucine.
They are generally new build multi storey blocks and are fitted out to a similar standard of a three star hotel with en-suite bathrooms and large communal areas. They tend to be a bit more expensive than the universities' halls and as they are independent you will be sharing with a diverse mixture of people. This could be the option for you if you still get excited about staying in a single room in a cheap hotel!
Parent Purchasers
This is a trend that started around the mid 1990s and has been gathering pace ever since. Rather than fork out for their student off-spring's rent, parents take the opportunity to become buy-to-let Landlords. Their son or daughter invite three or four of their most trustworthy friends to become tenants and Mum and Dad can pay off the student loan with their capital growth. It sounds like a classic win-win situation but not always if you are the purchaser's child.
In the same way that it's difficult to separate the girl at the call centre from that nasty bank that bounced your last rent cheque your fellow tenants will see you as the Landlord's representative on the ground. Imagine the dilemmas; one of your housemates can't come on a night out with you because they've only just got enough money to pay their rent or your parents get a complaint about the noise and ask you to sort it out.
If your parents are proposing buying a property for you to live in urge them to give it to a local agent to manage and collect the rent. Most agents will manage properties for a monthly fee even if they have not supplied the tenants.