It is essential that you view a good selection of properties before making a decision. Put a couple of days aside for the viewings and take notes so that you can compare and contrast later. Because it's a fast moving market agent's details tend to be fairly sparse on rental properties. Compensate for this by taking some pictures to accompany your notes. Take one copy of the checklist below for each property that you're booked in to see.
Questions to ask the Landlord/ Letting Agent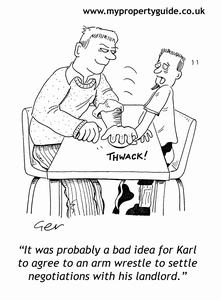 How long has the property been on the market? This will give you some idea of the demand and how tough you can be in any negotiations.

Before you make an offer try looking at the agent's website on the Internet Archive to see if the property was advertised the previous year and for how much. This will alert you if the Landlord is going for a sharp increase.
What will be the deposit? A calendar months rent is the most common amount.
What is the length of contract? If it is a predominantly student area the Landlord is probably going to insist upon 12 months. In non-student areas or smaller properties try asking for the exact time that you want.
Will there be a break clause in the contract? These are increasingly being inserted in to Tenancy Agreements, particularly in the London area, as a way of giving the parties more flexibility. A break clause allows either party to give two months' notice to end the tenancy after six months.
If you can get a break clause inserted in the tenancy you can use it as a more surreptitious way of getting exactly the length of tenancy that you want.

Viewing Checklist
| | |
| --- | --- |
| What to look for | Comments |
| How clean is the property? Check the areas that are often overlooked by the outgoing tenants such as ovens and cooker hoods. Has the Landlord left time for cleaning between tenancies? | |
| How secure is the property? Most insurance companies insist upon 5 lever dead locks on the external doors and window locks on the ground floor. | |
| Try and establish which pieces of furniture belong to the existing tenants and which belong to the Landlord. If you require one or two additional items you may want to ask for these as part of the initial negotiations. | |
| Are there enough facilities for the intended sharers e.g. number of toilets/ showers? Turn the shower on to see if it has sufficient water pressure. | |
| What is the external condition like? Focus on aspects that may affect the interior such as broken or loose guttering, cracked windows or missing roof tiles/ slates. | |
| How old is the boiler? Note down the make and model of the boiler and Google it. This will normally take you onto a plumbing forum that will reveal its age. Are there any stickers on it to indicate that there is a service contract in place? Is it a combi or a system boiler? If it fires up when you turn on the hot tap it is a combi. Combis can struggle to provide enough hot water for larger properties. You may find that your shower goes cold when someone flushes the loo. | |
| Check on the white goods. Is there sufficient fridge space for the number of sharers? Is there a washing machine or a dishwasher (that may be asking too much!). | |
| Are there any external sources of noise such as a busy road, train line or pub? If so you should think about coming back at the busiest time of day to get the full impact. | |
| Who will be responsible for maintaining the garden? If it is the tenant check if the Landlord supplies the tools required. Students don't tend to have their own garden tools! | |